If We Can't Find You, We Can't Help You!
When we respond to an emergency, we strive to find the location in a timely manner. When you or your loved ones are in need, we know it is important to get there fast! However, when the address is not clearly and boldly marked on the residence or the mailbox, it takes us longer to determine where we need to go. When an emergency occurs, every second counts! If your mailbox is not properly marked, Cool Springs Volunteer Fire Department has the answer!
We offer a FREE highly visible, reflective address marker to help us find you faster! These markers are made from durable, rust-proof aluminum that will last for years to come! You can choose from a black, green, or blue sign with white reflective numbers. You can also have it made horizontally or vertically to fit your specific needs. We will also assist you with your installation if needed at no charge.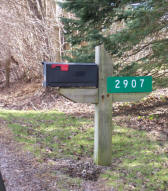 We offer three convenient ways to order your address sign: